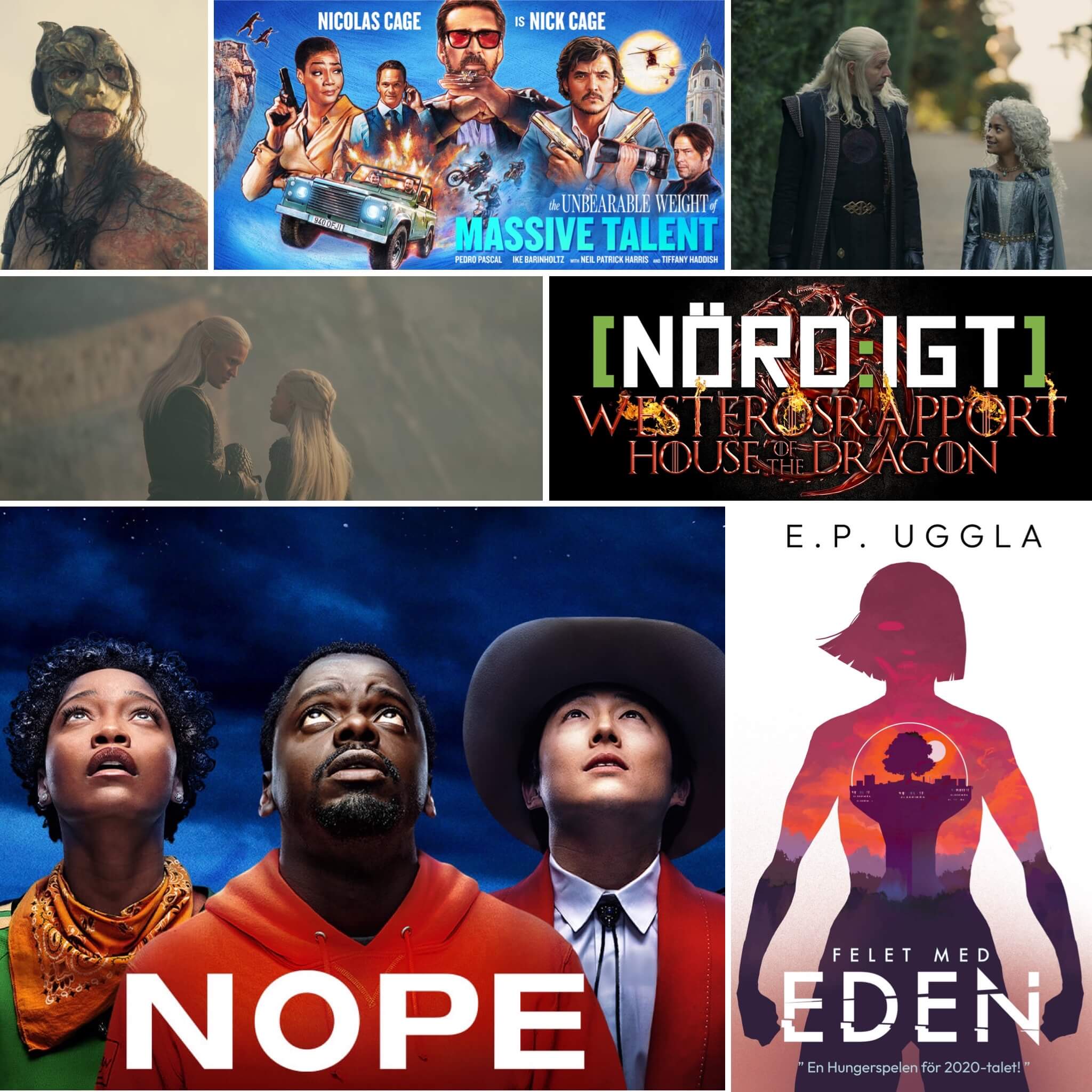 Tre man starka diskuterar vi denna vecka bland annat ett par filmer och det senaste avsnittet av vad vi nu kallar HOT-D!
Niklas, Jonas och Mats ses i studion denna kväll och inleder med ett tämligen matigt nyhetsblock om bland annat det nya från Gamescom, ett nytt Mafia-spel, Netflix nya budgetkonton, filmer som flyttar sig till fördel för James Camerons Avatar, Drakar och Demoner-kickstartern samt lite nyheter om nästa Assassin's Creed.
Därefter snackar vi om två filmer som Niklas sett: The Unbearable Weight of Massive Talent samt Nope. Är Nicholas Cage vår nya favoritskådis? Kan Jordan Peele verkligen göra tre fantastiska filmer i rad? Det får du svar på här. Därefter snackar Mats lite om en bok som vi haft på hyllan ett tag: Felet med Eden av E P Uggla, som har jämförts med Hunger Games – åtminstone av förlagets PR-människor. Mats gör dock ett par andra, intressantare kopplingar till denna svenska sci-fi-bok.
Till sist avrundar vi med en rejäl Westerosrapport, denna gång självklart om det andra avsnittet av House of the Dragons första säsong, The Rogue Prince. Nej, det handlar varken om grönklädda Marvelhjältar eller om döda popstjärnor, men desto mer drakar och intriger.
Tack & Förlåt, Puss Hej!
Här hittar du avsnittet via RSS