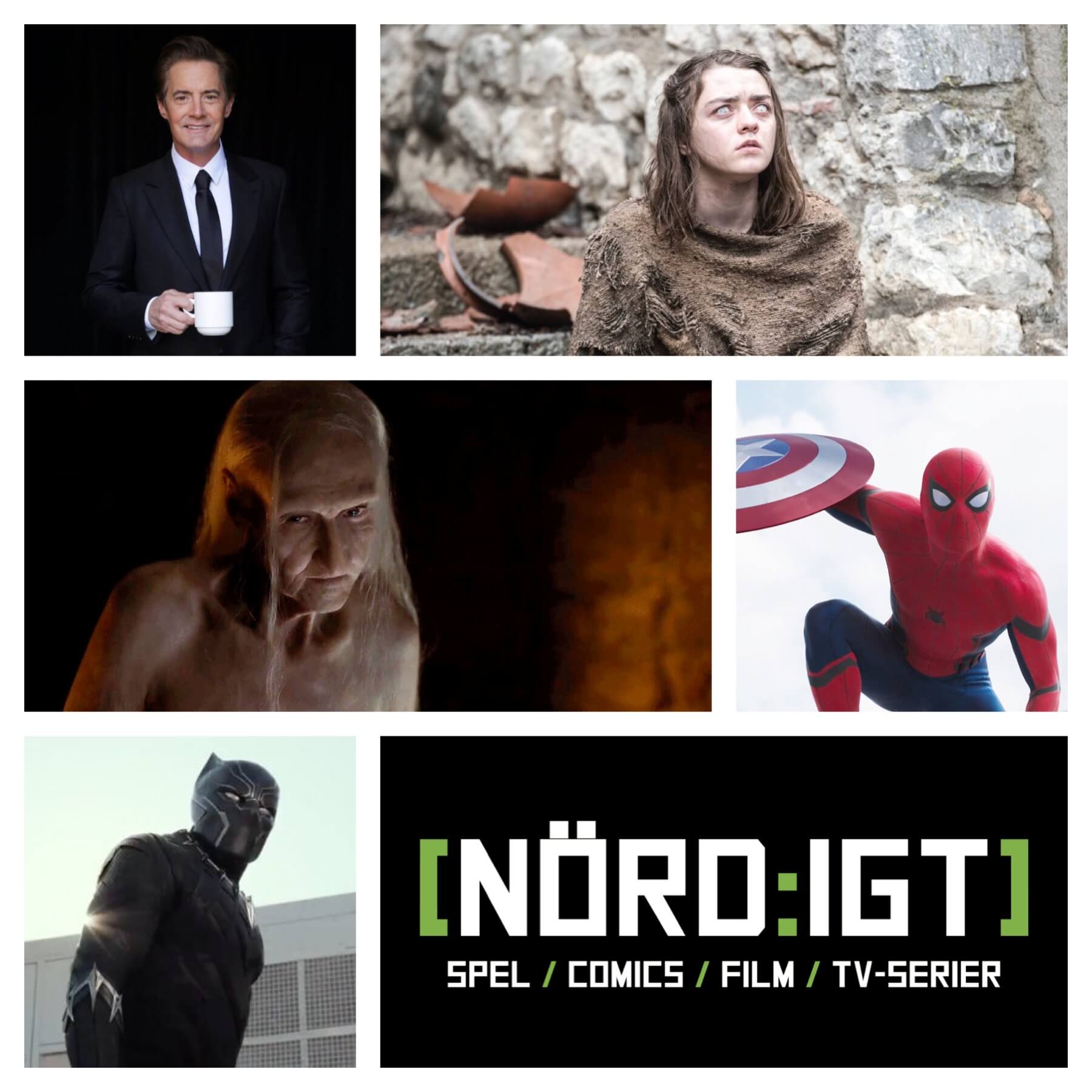 Som du har längtat! Äntligen är säsong 6 av Game Of Thrones igång och med det tillkommer även den analysprogrampunkt som vi kallar för Westerosrapport!
Men det finns ett och annat att ta itu med innan dess för  panelen bestående av Berglöf, Berglöf, Bengtsson och Kjellin.
Peter kan inte hålla sig från att dela med sig av lite spoilerfria första intryck från Marvels nya rulle Captain America: Civil War. Är han Team Stark eller Team Cap? Svaret kan nog överraska! Mer analys blir det säkert även i framtida avsnitt när fler i panelen hunnit se filmen!
Jonas berättar om nya Hearthstone-expansionen Whispers Of The Old Gods, Niklas tipsar om sci-fi-klassikern Childhood's End, både boken och TV-serien, Tove meddelar nyheten om den nya Doctor Who-kompanjonen inför S10 och dessutom tar panelen en titt på den enorma lista av skådisar som är klara att dyka upp när David Lynch & Co. återvänder till Twin Peaks i en miniserie på TV nästa år! Det är både gamla bekanta ansikten från gamla goda tiden, samt välkända nytillskott och en och annan musiker!
Avslutningsvis kommer så äntligen vårens första Westerosrapport som tittar närmare på säsongspremiären av Game Of Thrones – "The Red Woman" med tankar och funderingar kring alla dödsfall och intriger från The Wall och King's Landing till Bravos och Mereen.
Tack och förlåt!
Puss Hej!
HÄR kan du lyssna på avsnittet via I LIKE RADIO.
HÄR kan du ladda ner det som mp3.
HÄR hittar du avsnittet via RSS