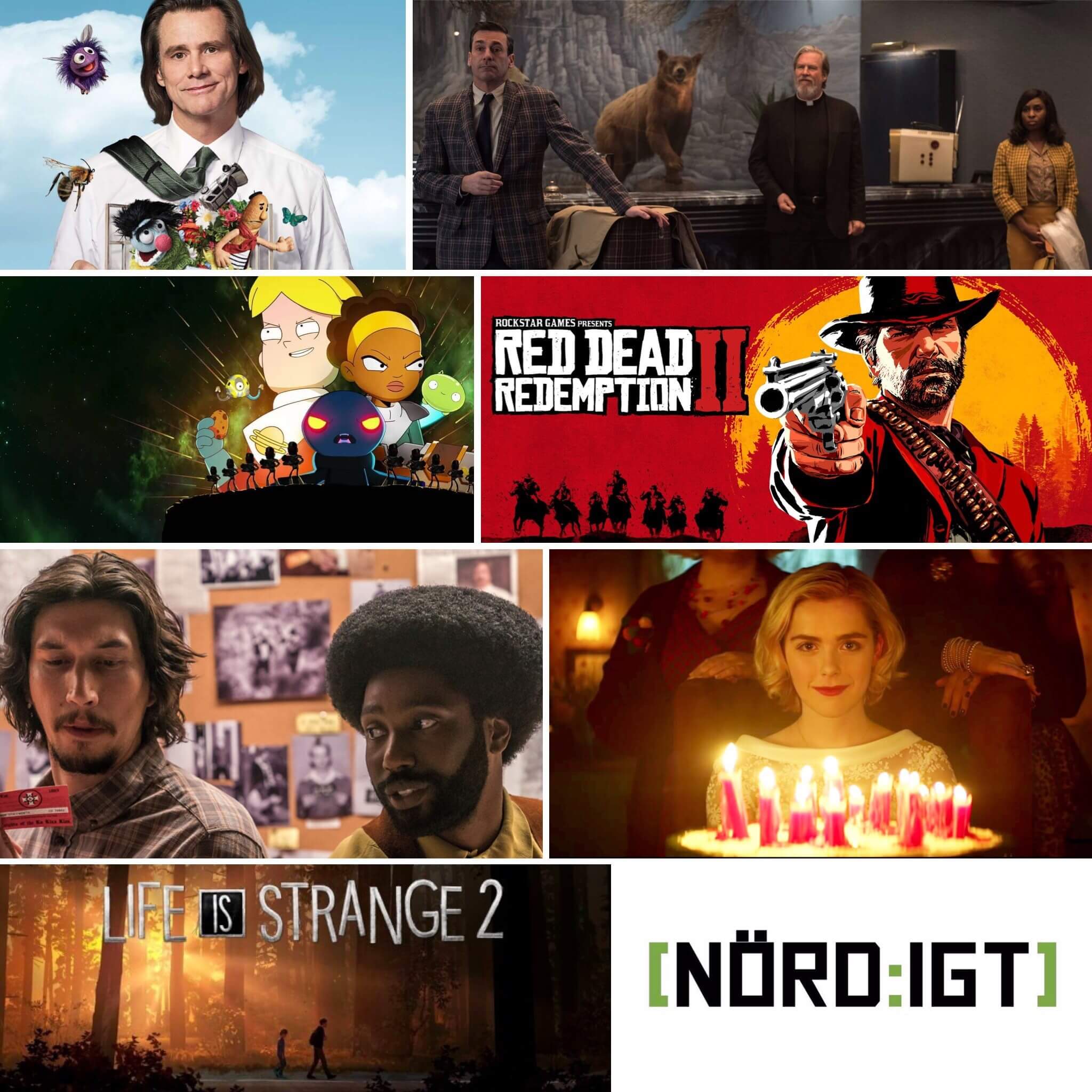 Som Jonas uttrycker det, en penistät panel denna vecka, med mängder av film, TV-serier och spel att snacka om
Mats, Jonas och Niklas sätter sig ner för att snacka lite om vad de gjort och sett den senaste veckan. Eller de senaste fyra veckorna, i Mats fall. Vi kan redan nu förvarna om ett osedvanligt tätt säl-regn över mellansverige denna poddvecka.
Vi inleder med film, och Niklas får berätta vad han tycker om sina senaste två biobesök: Blackkk Klansman samt Bad Times at the El Royale. Därefter kastar vi oss raskt in i en svit av TV-serier som några av oss nu hunnit ikapp med, alternativt hunnit ta en första titt på. Det snackas bland annat om Jim Carrey-fordonet Kidding, Conan O'Briens-producerade Final Space samt det märkliga men fascinerande Maniac. Mats har dessutom hunnit få några första intryck av Chilling Adventures of Sabrina – en aningen mörkare version av Sabrina: Teenage Witch, en serie han sett i sin helhet åtminstone 1,5 gånger när det begav sig. Men Salem är fortfarande kvar, tyvärr minus sina sarkastiska repliker!
Lite spel hinner vi också med. Mats avslöjar exakt hur otroligt bra han tycker att första avsnittet av Life is Strange 2 är, efter en kort passus om hur mycket han redan efter tre avsnitt älskar Chris Chibnalls och Jodie Whittakers nyligen uppfräschade Doctor Who, med hennes tre kompanjoner. Sedan berättar vad han gjort varenda vaken minut så han inte jobbat eller segelflugit. Spoiler: han har spelat Assassin's Creed Odyssey och utforskat Grekland med den muskulösa, snabbsnackande alternativt diskret smygande Kassandra. Jonas har däremot tagit det lugnare, med det medvetet långsamma men oerhört inlevelsefulla Red Dead Redemption 2. Ska det bli spelet som äntligen får Mats att svälja stoltheten och köpa sig en Playstation 4? Utsikterna är goda.
Tack & Förlåt, Puss Hej!
HÄR kan du lyssna på avsnittet via I LIKE RADIO.
HÄR kan du ladda ner det som mp3.
HÄR hittar du avsnittet via RSS