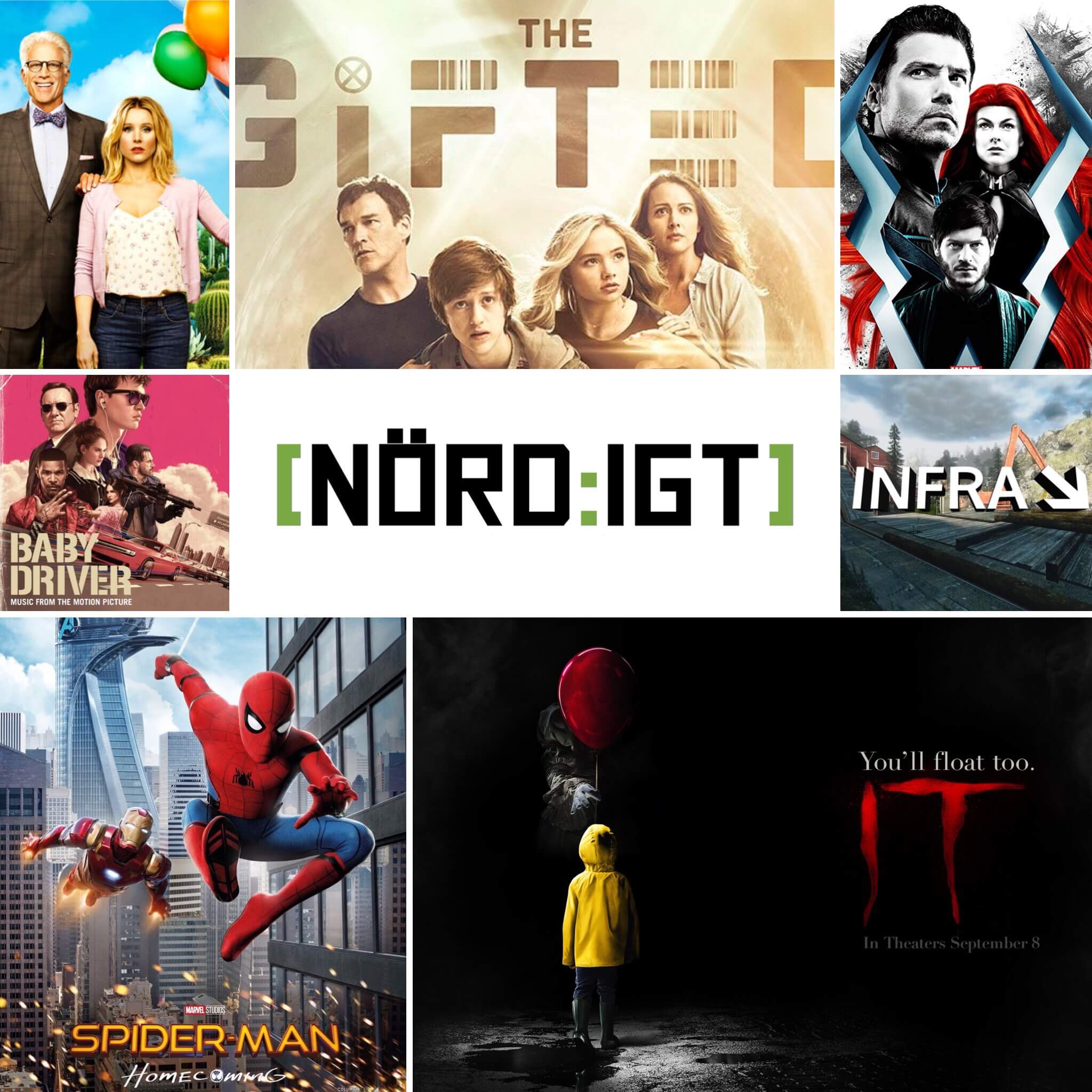 Äntligen inkluderar [NÖRD:IGT]-panelen allas favoritnördfamilj, inklusive en liten Spike!
Veckans deltagande är således Peter, Vanne, Mats och Niklas, med vår minsta hedersmedlem Spike som gör sig hörd lite grann mot slutet från sin barnvagn. Och vi inleder med post – i mailhögen hittar vi detaljerad kritik av vårt Star Trek Discovery-snack och lite annat smått och gott.
Filmsegmentet är den tyngsta biten denna gång. Här diskuteras årets (kanske) bästa Marvelfilm, Spider-Man: Homecoming. Raskt följd av skräckfilmen (eller är den?) Det, Kingsman: The Golden Circle, Dunkirk och Baby Driver. Dessutom Okja och It Comes at Night. Och säkerligen något mer som vi glömt, Niklas är i toppform och har sett fler filmer än vad som borde vara fysiskt möjligt, om han inte helt skippat att sova och äta?
Lite TV-serier blir det också denna vecka. Vi har äntligen sett Girlboss och berättar exakt varför The Good Place är värd att se minst fem gånger, enligt Vanne. Peter har även sett The Gifted, som verkar vara en rätt habil serie om Marvelvärldens lite mindre kända mutanter, samt det, ähm, mindre lovande Inhumans – är det så dåligt som alla säger? Lyssna så får du svaret.
Slutligen spel. Mats har snöat in sig på ett om möjligt ännu smalare spel än de simulatorer som ofta upptar hans fritid: finskskapade Infra är ett spel om att inspektera trasiga broar och maskiner! Och Niklas berättar vad det allra, allra jobbigaste med att äntligen få sin Mini-SNES var. Spoiler: Det är inte brist på spel!
Nästa vecka blir det andra bullar. Puss Hej!
HÄR kan du lyssna på avsnittet via I LIKE RADIO.
HÄR kan du ladda ner det som mp3.
HÄR hittar du avsnittet via RSS