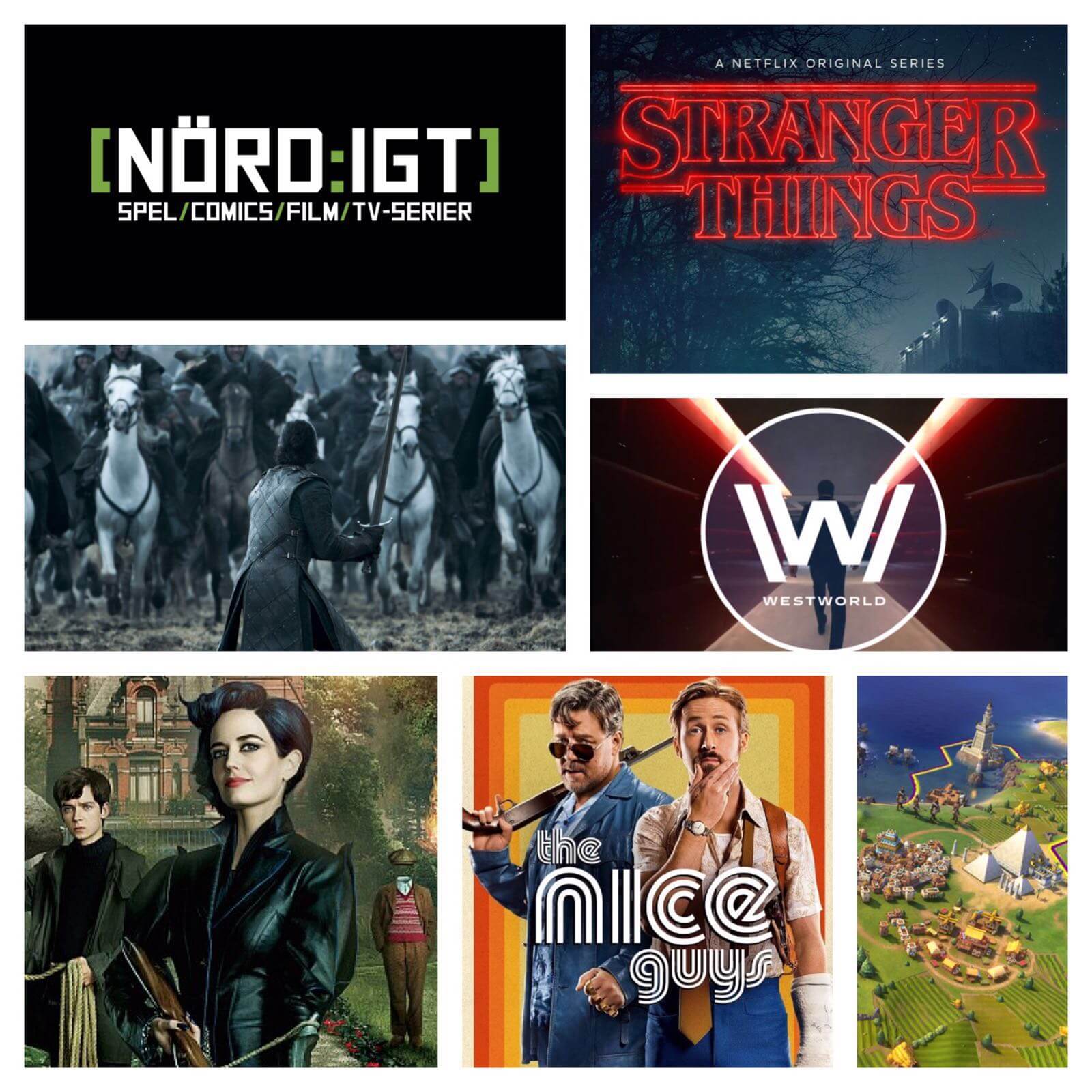 I säsongens näst sista [NÖRD:IGT] blir det ett riktigt potpurri: prat om E3, digitala brädspel, recension av The Nice Guys, mer pepp på Civ VI, Tim Burtons nya rulle, och de kommande tv-serierna Westworld och Stranger Things. Och så rundar vi såklart av med en maffig Westerosrapport.
Vi har även en uppdatering gällande Lund Comedy Festival – tiden för vår medverkan är ändrad, och gäller nu kl 19 den 3 september. All info hittar du här: http://2016.lundcomedyfestival.com/events/
Jonas, Niklas och Tove håller låda den här veckan och tar vid efter förra veckans E3-snack – med mer E3-intryck, från Tove som var på mässan. Jonas har kollat in gameplay på Civilization VI, som vi fortsätter att hajpa till skyarna.
Vidare i filmdelen blir det blandad kompott. Tove har (tyvärr) sett den riktigt kassa Pride and Prejudice and Zombies, medan Niklas och Jonas har sett den grymt roliga actionkomedin The Nice Guys. Vi diskuterar också Tim Burtons nya film Miss Peregrine's Home for Peculiar Children, som ser lovande ut, och är förhoppningsfulla över att Burton hittat rätt igen.
Innan vi går ned i tv-serieträsket har Tove semestertips: brädspel på padda. Hon har bland annat testat de digitala versionerna av Agricola, Smallworld och Settlers of Catan.
Vi blickar framåt, och Niklas berättar om de kommande tv-serierna Westworld – androider i vilda västern – och Stranger Things – sci-fi på 80-talet.
Slutligen (1 timme, 29 minuter in) avslutar vi podden med veckans Westerosrapport, Game of Thrones avsnitt 9 säsong 6, titulerad "Battle of the Bastards".
Tack och förlåt!
Puss Hej!
HÄR kan du lyssna på avsnittet via I LIKE RADIO.
HÄR kan du ladda ner det som mp3.
HÄR hittar du avsnittet via RSS